Fig and Lemon Marmalade, Porridge and Tahini
I learned to make this jam in the first kitchen I worked in in New Zealand, it's pretty epic smeared along with some butter (never forget the butter) on the banana bread toasted. It makes a good gift too as people tend to be quite impressed with efforts in the field of marmalade. My advice is never tell anyone how easy this is.
Makes two large jars or four small
You will need:
--300g lemons
--250g dried figs
--4 cups water
--4 ½ cups caster sugar
--Serve on toast with butter or dollop a little over your porridge along with a spoon of creamy tahini and a sprinkle of carob nibs
Directions:
– Half and very thinly slice the lemons, discarding the pips. Place in a large bowl. Trim the stems from the figs and cut each one into four and add to the bowl of lemons. Cover with four cups of water and leave over night.
– Place the fruit and water into a large heavy-bottomed pot and bring to the boil. Remove from the heat, add the sugar and stir to dissolve. Return to the hob and boil for approximately 40 minutes.
– There's two ways to know if this jam is done: Either boil it with a sugar thermometer and remove it from the heat when it reaches 105°C or else as it is thickening spoon little quantities of jam onto a cold plate and chill in the fridge for a couple of minutes. This will give you an idea of what consistency the jam will be when cooled and will tell you when to take it off the heat.
– After the jam is cooled store in clean jars. If when the jam has cooled, it is too firm all is not lost, loosen it up by stirring in a little boiled water.

Banana, Berry and Tahini Oat Bars
Makes 12
You will need:
--200g (7oz) oats
--120g (4oz) wholemeal flour
--1 teaspoon baking powder
--30g (1 1/4oz) ground almonds
--1 teaspoon ground cinnamon
--60g (2 1/2oz) coconut oil
--60g (2 1/2oz) tahini
--60ml (2 1/2 fl oz) maple syrup
--2 bananas, mashed
--1 egg, beaten
--200g (7oz) frozen berries
Directions:
- Preheat the oven to 180°C, 350°F, Gas 4.
- Place the oats, the flour, the baking powder, the ground almonds and the cinnamon in a large bowl and mix together.
- Put the coconut oil, the tahini and the maple syrup into a small pot and melt together over a medium heat, stir to combine and add to the oats along with the mashed bananas and the egg.
- Mix all the ingredients together well. Line a square oven tray, about 18cm by 18cm with baking paper, spoon in roughly two-thirds of the mix and smooth down then sprinkle over the frozen berries and sprinkle over the remaining oat mixture.
- Bake for about 35 minutes until golden on top, allow to cool in the tray before cutting into 12 squares.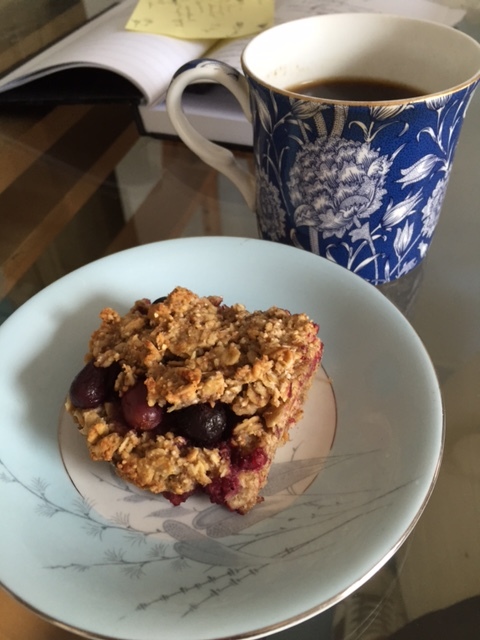 Apple Raisin Pancakes with Tahini and Maple
One of the many hallmarks of living with a toddler is being constantly surrounded by half-eaten then abandoned food items. There is a phenomenon that I call Banana Hand that occurs almost daily, basicaly whenever I foolishly decide to investigate some cupboard or nook without first making a visual exploration, resulting in my putting my hand straight into an open banana stashed there some time ago by Yer Man. It must be a revenge thing. His version of me rolling my eyes behind his back or whatever.
Lately he has moved on to taking tiny bites out of expensive varietals of apples and leaving them strewn about the house. Infuriating. This recipe was mainly devised to use up said apples.
Apple and Raisin Pancakes with Tahini and Maple Syrup
Serves 2 and a mini human
You Will Need:
--120g self raising flour
--pinch of salt
--tablespoon sugar
--2 teaspoons ground cinnamon
--150ml milk
--1 egg
-- 2 tablespoons butter, melted
-- 4 tablespoons raisin, soaked overnight in booze (optional)
--2-3 (half eaten!) apples finely chopped
--tahini whisked together with warm water to achieve pouring consistency (about 2 teaspoons tahini to 2-3 tablespoons warm water)
--Maple syrup (lots!)
Directions:
- Place the flour, salt, sugar and cinnamon in a bowl and combine.
- Crack in the eggs and pour in the milk, whisk into a smooth batter and add the melted butter at the end and whisk thoroughly.
- Heat a little extra butter in a non-stick pan and add the apple and raisins. Cook over a medium/high heat for a few minutes until the apples are softened slightly. Then add this to the batter and mix in.
- Clean the pan and spray with a little oil and return to the heat. Ladle in three small round pancakes. They are ready to flip when little bubbles start appearing on the top. They can be quite chunky so give them a bit of time to cook through in the middle.
- Serve with the tahini and maple syrup.
Kale, Egg, Tahini
KALE, TAHINI AND POACHED EGGS WITH ROAST SQUASH
I want tahini on everything, all the time, forever.
This dish is one that I fall asleep fantasising about most nights. It's also a great incentive for me to get out of bed. Every week I roast a few squash on a Sunday or Monday night to see me through the week as a quick side for eggs or chilli or to bulk out a soup or curry. Butternut squash would definitely be on my desert island list of food. I reckon a lot of people avoid using squash because they think the chopping is a faff, but this method of roasting them is no effort at all and it gives the skin a nice caramelised finish. Tahini is also a storecupboard essential for me, and this simple dressing goes on about half the meals I eat – it's great with roast vegetables, halloumi, lamb, everything.
Serves 2
--1 butternut squash, halved lengthways and deseeded
-- generous pinch of dried chilli flakes
--2 large handfuls of kale, stalks removed
--1 tablespoon olive oil
-- juice of ½ lemon
--2 generous teaspoons tahini
-- pinch of salt
--1 small garlic clove, crushed
--4–6 tablespoons water
--2 tablespoons white wine vinegar
--4 eggs
-- sea salt and freshly ground black pepper
Preheat the oven to 200°C/Gas 6. Pierce the thick necks of the squash halves with a knife a few times, then place both halves flesh-side down in a baking dish. Season with the chilli flakes, sea salt and pepper and bake in the preheated oven for 45 minutes or until tender. Remove from the oven and cut the squash flesh into chunks.
Place the kale, oil and lemon juice in a bowl and massage for about 5 minutes until the ingredients are well combined and the kale is bright green in colour.
Place the tahini, a pinch of salt and the garlic in a small bowl and gradually add the water, whisking until the mixture has the consistency of pouring cream. Add to the kale and toss to coat. Divide the kale mixture between two large bowls and add the squash.
Fuck Off Deadly Fudge

WHITE CHOCOLATE AND PEANUT BUTTER FUDGE
Condensed milk is my life. This fudge is stupidly easy and yum.
I made this peanut butter fudge for the first time last Mother's Day, when I cleverly concocted a plan to call in sick to life and stayed in bed watching back-to-back movie trailers in a state of relaxation bordering on catatonia. That was a good day.
Makes 30 pieces
-- oil or butter, for greasing
--300g white chocolate chips
--400ml tinned condensed milk
--300g smooth peanut butter
--75g chopped salted cashew nuts
Line a 21cm square baking tray with baking paper. Lightly grease the paper with a little oil or butter. Put the chocolate chips, condensed milk and peanut butter into a heavy-based saucepan set over a low heat. Stir until melted and thoroughly combined.
When the mixture is smooth, add the cashew nuts to the pan and stir them through. Pour the fudge mixture evenly into the prepared tray. Smooth the top of the fudge.
Place in the fridge for about 1 hour to speed up the setting process. When the fudge is firm, turn it out onto a board and carefully peel off the paper. Cut into 30 bite-sized pieces and store in an airtight container in the fridge.
Bacon, Brie, Apricot, Fried
PAN-FRIED BACON AND BRIE SANDWICH WITH APRICOT JAM
For many years, Himself's nights out were plagued by bad luck. He was always getting a 'bad pint' or an 'iffy curry chips' and could usually be found spooning a toilet before dawn.
For a brief time, we had a bedroom that had a cast-iron, free-standing bathtub beside the bed. I had visions of enjoying a Cadbury's Flake in it, while sheet music swirled to the floor around me, until Himself, after nights out, began to treat the bath as a remote toilet. I couldn't even look at it without images of something that looked like mango chutney and smelled like badness flashing across my brain.
In our current home, the bathtub is downstairs, and I dared to hope that this inconvenience might cure Himself of his predilection for tub-spewing. I figured that we are parents now, and that defiling bathtubs was a thing of the past.
However, not long after Yer Man was born, I was proved wrong. I woke in the night to that old familiar sound of the 'bad pint' being regurgitated. I was aware that the sounds were disturbingly close, but I was too tired to take action and went back to sleep. In the morning, however, I uncovered a depraved scene.
Himself was curled, foetus-like, around the baby bath. Even more horrific was the fact that he hadn't even bothered to put in the stopper, and some kind of hell juice was slowly draining out onto the floor.
My first instinct was to launch a reign of intense passive-aggression, manifesting as prolonged silent treatment, during which I would do housework really loudly. But I pulled back and realised that the best course of action was mercy. That is how this sandwich came to be ...
It can really only be attempted when you are so filled with self-loathing and remorse that eating a fried cheese-and-bacon sandwich doesn't seem so bad when compared with your original crimes.
. Serves 1
--2 tablespoons butter (don't skip this bit, as it is the main source of the cure)
--2 slices thick white bread (I think sourdough is the nicest, rather than sliced pan)
--2 crispy bacon rashers
--4 slices Brie
--1 tablespoon apricot jam
Preheat the oven to 150°C/Gas 2. Put about 1 tablespoon of the butter in an ovenproof cast iron frying pan over a medium–high heat and heat until melted. Put a slice of bread on the pan and then top it with the bacon and cheese.
Spread the jam on one side of the other slice of bread and place this, jam-side down, on top of the bread in the pan. Spread the top of this slice with the remaining butter. When the underside of the sandwich is golden brown, flip it, then put the pan in the preheated oven for about 5 minutes to finish.
French Toast, Bacon, Maple Syrup Ice Cream
Very, very occasionally Himself gets on a healthy eating jag. Allow me to set the scene. It is 3.30 in the morning. The floor is littered with the detritus of a drunkenly conceived takeaway. Himself is on the couch and has assumed a position that in our house we call Level 10.
Don't be getting excited now, there is nothing remotely amorous about Level 10. It is the final stage of sitting before you could be considered supine. The chin is resting on the chest, limp arms lie beside the torso – which is occupying the seat portion of the couch as opposed to the usual back section – and the legs trail lifelessly to the floor.
'I'm starting boot camp,' he announces.
I respond incredulously: 'You just complimented the girl in Luigi's on her new haircut, meaning you know the staff of our local takeaway well enough to keep track of their hairstyles.'
'Shmalls the moor paison,' he says, which I interpret as 'all the more reason'.
Immediately, I know that he must be stopped. Improved diet and exercise leads to more energy, and for the sake of our marriage I need to keep him doughy and lethargic – and probably not use these adjectives to describe him. No one can resist this frankly outrageous breakfast of ice cream and bacon.
Serves 2
For the ice cream, you will need:
--500ml cream
--200ml milk
--200ml condensed milk
--5 cloves
--100ml maple syrup
--1 bay leaf
--1 teaspoon grated nutmeg
--5 egg yolks
--30g caster sugar
 
For the French toast, you will need:
--Lots of crispy bacon
--3 eggs
--Half cup of milk
--4 thick slices of good white bread
--Lots of butter for cooking (no point in holding back on this one, you're already eating ice cream for breakfast)
Place the cream, the milk, the condensed milk, the cloves, the maple syrup, the bay leaf and the grated nutmeg into a saucepan and bring to the boil, then remove from the heat and allow to infuse for 15 minutes.
Meanwhile, whisk the egg yolks and the caster sugar for four minutes until the mixture is very pale and has the consistency of whipped cream. Now pour the cream-and-milk mixture into the whisked-egg mixture through a sieve, then stir to combine.
Pour this custard-like mixture into a clean pan over a medium heat and stir it until it thickens enough to coat the back of a spoon. Allow it to cool, pour it into a container and place it in the freezer.
For the next 2-3 hours take the ice cream out every half an hour or so and give the mixture a good mix to break up the ice crystals. A hand-held beater or a stick blender are good for this, and an ice-cream maker is even better, if you have one.
When your ice cream is ready it is time for 'Operation Plumpington' to commence. Fry up the bacon, and whisk the eggs and the milk together. Melt about a tablespoon of butter in a non-stick pan over a medium high heat. Dip the slices of brioche in the egg mixture and then fry until golden and crispy on both sides. Serve the French toast along with the bacon and maple-syrup ice cream.
Asian Chicken Salad, Peanut Dressing
The peanut butter obsession knows no bounds. Himself indulges in a bi-weekly gripe about the hipster takeover that is peanut butter's rise to foodie favour. I try to explain to him that on paper, at least, we too are hipsters; between us we've got facial hair, asymmetrical haircuts, niche taste in condiments and the odd tattoo, but he is in deep denial on this one. So much so that I often lie to him about peanut butter inclusions to avoid a hypocritical rant. This salad dressing is so tasty it will seduce even the most salad-resistant peeps (I'm talking about Himself, obviously).
Serves 2
--2 teaspoons dark miso paste
-- juice of ½ lime
--3 tablespoons water
--1 teaspoon soft brown sugar
--½ red chilli, deseeded and finely diced
--1 carrot, cut into matchsticks
--1 red pepper, deseeded and thinly sliced
--2 spring onions, sliced
--1 head of baby gem lettuce, roughly shredded
--40g mixed fresh basil, mint and coriander, finely chopped
--2 cooked chicken breasts, roughly torn
--60g roasted cashew nuts
Put the peanut butter, miso paste, lime juice, water, sugar and chilli into a large bowl and whisk until well combined. Add the carrot, red pepper, spring onions, lettuce, herbs and chicken to the dressing and toss well until all the components are evenly coated. Divide the mixture between two bowls and scatter the roasted cashew nuts over the top.
CREAMY BEANS ON TOAST WITH CHORIZO
This is one fuck-off fancy version of beans on toast, adapted from a recipe by my former boss Maisha Lenehan, cook and owner of Bibi's Café. This dish demands to be made immediately if not sooner. I can't tell you how delicious it is.
Serves 2
--1 tablespoon olive oil
--½ onion, peeled and finely sliced into half moons
--1 garlic clove, finely sliced
--100g chorizo sausage, peeled, halved lengthways and chopped into small cubes
--200ml white wine
--80g crème fraîche
--400g tinned cannellini beans, drained and rinsed
-- small bunch of fresh thyme
-- pinch of dried chilli flakes (optional)
--4 slices sourdough bread or other nice white bread, toasted
-- grated Parmesan cheese, to serve
Pour the oil into a medium-sized saucepan and place it over a medium heat. Add the onion and sauté until transparent, then add the garlic and cook for a couple of minutes.
Add the chorizo to the pan. Increase the heat to allow the chorizo to release its rich oils, and stir frequently to prevent sticking.
Taste the wine to ensure quality (a glass or two will do!), then add to the pan. Bring to the boil, then reduce the heat and simmer for 5–10 minutes until the liquid has reduced by about two-thirds. Stir in the crème fraîche. Add the beans to the pan and cook for 1 minute until heated through. Stir in the thyme and chilli flakes, if using – some people find that the chorizo adds enough of a kick to the dish. I usually skip any additional seasoning because the chorizo is generally salty enough.
Serve the bean mixture on top of the toasted bread, along with a healthy sprinkling of grated Parmesan cheese.
Deep Fried Mars Bars
This recipe is a nod to my adolescent self. The bitch-herd was never tempted by a deep-fried Mars bar, but we were always threatening to give them a go until finally, my curiosity got the better of me. The result? Not as sickening as you'd expect . . . in fact, dangerously nice.
Deep Fried Mini Mars Bars
Makes 10-12 servings.
––125g self-raising flour
––130ml milk
––1 egg
––1⁄4 teaspoon salt
––Sunflower oil, for frying
––10-12 fun-size Mars bars
Place the flour, the milk, the egg and the salt in a bowl, and whisk thoroughly to make a smooth quite thick batter.
Fill a small pot up to 5cm with the oil and place over a medium heat for about five minutes. To test that the oil is hot enough drop a small bit of the batter in, if it sizzles and immediately pops back to the surface then the oil is ready.
Dip the each Mars bar into the batter, then carefully lower into the oil. Fry until golden in batches of two or three, then drain them on a paper towel for a couple of minutes. Serve with some vanilla ice cream and a good dollop of shame and self-loathing, as befits eating a deep-fried Mars bar.
Chilli Feast
Like mash, chilli was another staple of childhood dinners and to this day one of my absolute faves. The chilli was a stalwart of my dad's repertoire. Like myself he had a talent for melting cheese, a once-a-generation type cheese melting talent – but beyond that he was a good cook so it is going to sound like I am slightly overstating his talents as a cook when I say that the secret ingredient to his famous chilli was ketchup, which is perhaps not the most innovative secret ingredient of all time. This version of chilli pushes the boat out somewhat with ale, coffee and chocolate for a rich, deeply unctuous sauce.
Serves 4-6.
--2 tablespoons rapeseed oil
--2 onions, diced
--3 garlic cloves, sliced
--500g beef mince
--300g diced beef steak in 1cm cubes
--2 tablespoons ground cumin
--2 tablespoons ground coriander
--2 teaspoons cayenne
--2 teaspoons dried oregano
--1 x 400g (14oz) can chopped tomatoes
--1 empty tomato can filled with dark ale
--50ml (13⁄4fl oz) shot of coffee
--2 tablespoons tomato paste
--2 tablespoons ketchup
--2 squares dark choc, (15g)
--1 tablespoon dark brown sugar
--1 can drained kidney beans
--1-2 teaspoons salt
--Sour cream and guacamole, to serve
Heat the oil in a large saucepan over a medium heat. Add the diced onions and the sliced garlic, and cook until softened. Increase the heat and add the mince and the cubed steak. Once the meat has browned, add the ground cumin, the ground coriander, the cayenne and the dried oregano, stir together and cook for about five minutes. Next add the chopped tomatoes, the dark ale, the shot of coffee, the tomato paste, the ketchup. Bring to the boil, then simmer for 30-45 minutes until the sauce has thickened. Stir in two squares dark chocolate, the dark brown sugar and the drained kidney beans. Check the seasoning with 1-2 teaspoons of salt and serve with the sour cream and guacamole.
Merguez Sausages, Lemon and Herbs
A way to get acquainted with Merguez sausages in a slightly more upmarket fashion then eating them directly out of the pan in the back of a van.
Serves 2
––6 skinny merguez sausages
––1 tablespoon olive oil
––1 clove garlic
––1 teaspoon of finely chopped fresh rosemary
––zest of half a lemon
––Generous handful of flat leaf parsley and basil, roughly chopped
––1 can of cannellini beans (240g drained weight), rinsed
––Juice of half a lemon
Heat a non-stick frying pan over a high heat and fry the sausages until golden and cooked through. In a separate pot heat the olive oil gently over a low heat and add the garlic, rosemary and zest and stir over the heat to allow the flavours to release. Pour in the beans and toss to coat well. Stir in the juice and a little oil from the sausages and remove from the heat. Spoon the beans onto warm plates, top with the sausages and scatter over the parsley and basil. Drink a very cold, dry glass of white wine with this and soak up the juices with some good bread.
Sneaky Cauli Risotto
If you've just spent the whole weekend eating and drinking your face off, sometimes you need a healthy start to the week to get back on the healthy track. However, being the greedy person that I am, I can never go too far in the healthy direction without succumbing to a bit of cheese also. I've cracked the key to having my cake and eating it too, though in this instance it's having your risotto and eating it too.
Simply by halving the portion of rice and replacing it with the humble hero that is cauli-rice, you've got a creamy bowl of restorative deliciousness that will keep you feeling smug at least until the next gorging hits.
Super Healthy Mushroom Risotto
Serves 2
Ingredients:
-- 1 tablespoon oil
-- 1-2 tablespoons butter
-- 4 large portobello mushrooms, sliced
-- 1 onion, finely diced
-- 3 cloves of garlic, peeled and finely diced
-- Half a cup of rice (brown, basmati or arborio all work well)
-- About 800ml – 1 litre stock
-- Half a head of cauliflower
-- 50ml cream or milk
-- 50g parmesan, grated
-- Rocket, to serve
-- Balsamic glaze, to serve (optional)
Directions:
Step 1
Pan-fry the sliced mushroom in a little oil and butter then set aside. Heat a little extra oil and butter in a non-stick pan over a medium heat and then gently fry the finely diced onion and garlic. Once the onion is slightly softened add the rice and start to add the stock about half a cup at a time. Keeping the pan at a medium heat and stirring constantly to prevent it from sticking, allow the stock to be almost completely absorbed each time before adding more.
Step 2
Blend the cauliflower in a food processor to get a rice-like consistency, then add to the pan once all the stock has been incorporated and the rice is tender. Stir together and add the cream or milk (whichever you're using) and the grated Parmesan (add a little extra milk or water if you like your risotto creamier).
Step 3
Divide the risotto between two bowls and top with the rocket, some extra Parmesan shavings and a drizzle of the balsamic glaze if using.
Maple + Squash Risotto
Maple & Squash 
Risotto
Serves 4
You will need:
3 tablespoons olive oil
Butternut squash, peeled and diced into 2cm cubes
1 tablespoon butter
3 shallots, sliced
2 cloves garlic, sliced
200g basmati rice
1200ml stock
2 tablespoon maple syrup
60g parmesan
1 teaspoon butter
10 sage leaves, sliced
Pinch of chilli flakes (optional)
Preheat oven to 220°C, 425°F, Gas 7. Toss the squash in two tablespoons of olive oil and a little salt and roast for about 20 minutes until tender.
Heat the rest of the oil in a non stick pan along with the butter and gently sweat the shallots and garlic then add the rice. Stir in the stock about 200ml at a time, allow to absorb before adding more. Continue until the rice is tender and creamy.
When the squash is cooked drizzle with maple syrup then return to the oven for two more minutes. Stir the parmesan and butter into the rice, divide among four bowls and top with the squash, sage and chilli flakes if using.